I actually have several favourite covers so I thought I'd compile a list of my favourites (Also, this thread should surely have images of the covers in it?). The funny thing is that while I find all of E's comics fascinating and of a consistently high quality, there's actually a lot more variability in the covers. Some are just stunning, so striking and enticing and really make you want to discover what's happening inside. There are one or two, though, that don't really do the fantastic story justice in my opinion anyway.
My favourites are:
1. BG9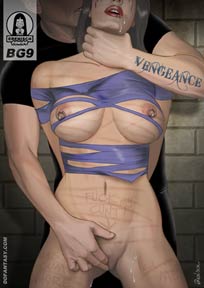 I just LOVED this, the moment I laid eyes on it. Such a fantastic pose. His hand on her throat, his finger on her clit. Cum on her chin, streaked mascara, whipmarks crisscrossing her body. The cropping is so effective too.
2. For Sale!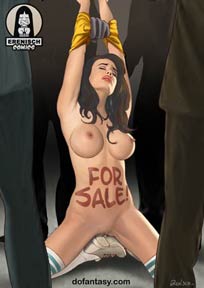 Such a beautiful image, she's so vulnerable and surrounded by shadowy figures, there's a sense of abandon as well. Love it.
3. The Hotel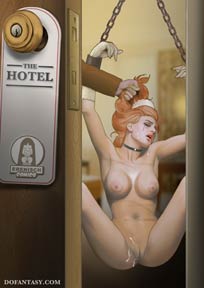 Again, such a striking image. I love the way we're peering into the room, just another hotel room and one can imagine similar scenes of abuse taking place in every room along the corridor. She's beautifully drawn, especially her breasts and again with the lovely little details: her hair gripped, the whipmarks and semen streaks.
4. Sluts in Training 2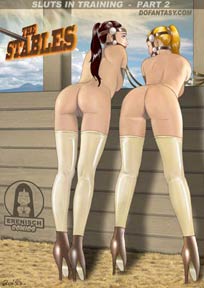 Two fantastic asses. I like these butts and I cannot lie

5. Slavecop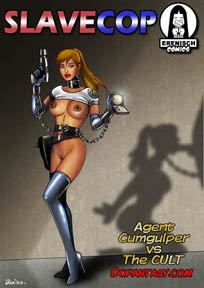 Love Lydia.
Looking back over all the covers again, I think the only one that doesn't work is
1. BG7.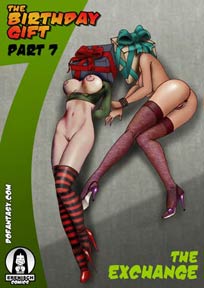 Maybe it's because of the boxes over their heads but this is a brilliant comic with loads of great scenes and images and the cover sells it short a little.